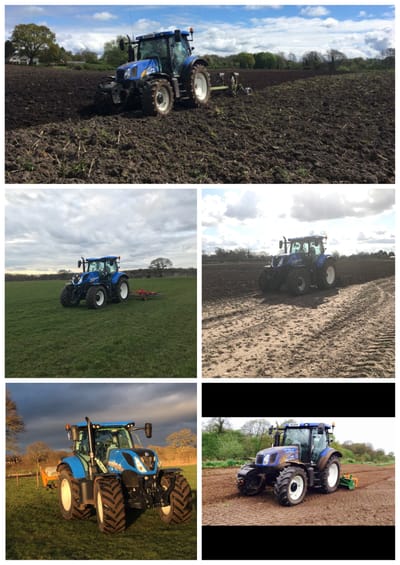 Pasture and flail topping
With a major cyclone with a 3m width and a McConnell flail mower with side shift can cut brash up to a height of 7 feet high.

Grass harrowing
we use a browns hydraulic folding 6meter Harrow with grass tines and can be set to be as aggressive as required.

Aerating
We have a McConnell 3meter with 12inch blades on for when your ground is getting to compacted or is loosing crop size.

Grassland rolling
We use 3 grassland rollers a hydraulic folding 12 meter Cambridge roller with star spikes on for reseeds.

Watson 8feet grassland roller for those tight to get into fields
and a Daibo green line 6meter hydraulic folding grassland roller.

Rear discharge spreading
Ktwo rear discharge spreader mk5 has a capacity of 19.3 cubic meters.

Slurry tanking
NC with a capacity of 13638 litres and is on flotation tyres.

Power harrowing
Amazone kx 3meter star packer roller.

Hedge cutting
a Kuhn agr longer with a 5meter cutting hight flotation gets header for cutting verges fitted with hammer flails.

Tractor and man hire
With a 16 plate new Holland T7.210 power command with front linkage on 38 on the rear and 28 for the front for tyres also is fitted with the latest gps guidance system.